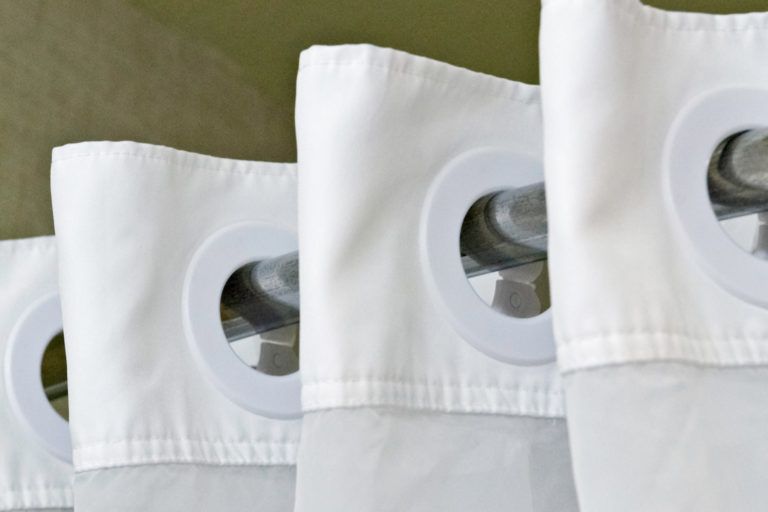 Quick Tips
Take down the shower curtain.
Determine a location in which to clean your shower curtain.
Give the shower curtain a good rinsing.
Apply cleaner and elbow grease.
Now thoroughly rinse the shower curtain being sure to get off all of the crud and cleaner.
Now it's time to rehang your shower curtain and let it dry.
So your vinyl shower curtain has hit puberty, and it's sprouting hair. Or maybe that's not hair, but soap scum, mold, mildew, and who knows what. Maybe you're reading this because you have guests coming for a visit, and you don't want them to be grossed out when faced with your nasty shower curtain. Or maybe you've just hit your mold threshold.
Either way, it's probably time to clean your shower curtain. Remember, a clean shower curtain is part of a clean shower. And whatever your motivation to clean, I have some great eco-friendly methods for cleaning shower curtains using green cleaners that get the job done. I'll tell you how to clean a shower curtain with all-natural cleaning products such as vinegar and baking soda as well as commercially available earth-friendly cleaners.
How to Clean a Vinyl Shower Curtain
Take down the shower curtain. Yes, the first thing you need to do is remove your shower curtain from the curtain rod. This may seem obvious to most of you, but it needs to be said. Trying to clean a shower curtain while it's still hanging on the rod is like trying to iron a shirt while it's still on the hanger. It might be possible, but wouldn't it be easier if you put it on a flat surface? Being careful not to rip the shower curtain, go ahead and it take down.
Determine a location in which to clean your shower curtain. Once you have the shower curtain down, you should assess the weather outside. At this point you can either take your shower curtain outside and lay it on a flat surface, like a picnic table, or stay inside and place it in the bottom of the tub to clean it. I opted to wash the shower curtain in the tub, since it was five degrees above zero on the Fahrenheit scale, and there was a lot of snow on the ground that day.
Give the shower curtain a good rinsing. This will wash away any loose debris and wet the surface in preparation for the next step. A garden hose will work nicely if you're doing this outside. For my tub operation, I used a plastic deli container that I salvaged from the recycling bin to distribute the water better than turning on the faucet would.
Apply cleaner and elbow grease. Scrubbing the shower curtain with a vinegar-drenched sponge will remove most of the mold and mildew, but if you have stubborn soap scum built up, you can make a paste of baking soda and water. Be careful of grass if doing this outside. Vinegar's a great all-natural cleaner, but it's also a great natural herbicide. The vinegar you're using has relatively low acidity—five percent—and shouldn't be that harmful to your grass, but you should be careful if you're concerned about your lawn. This time I used Mrs. Meyer's Clean Day Surface Scrub in Lavender. I applied it to the wet shower curtain, waited ten or fifteen minutes, and then scrubbed to get at the soap scum, mold, and mildew.
Now thoroughly rinse the shower curtain being sure to get off all of the crud and cleaner. You can now see if you've really gotten that side of the shower curtain clean. If necessary, go back and clean spots you missed. Once you've thoroughly cleaned and rinsed that side, turn it over and clean the other side using the technique outlined above.
Now it's time to rehang your shower curtain and let it dry. That's it. You have a clean shower curtain. And now that it's clean, here are a couple tips for keeping your shower curtain clean. Use a spray bottle to occasionally spritz it with vinegar and let that dry. The vinegar will help keep the mold and mildew at bay. You should also get in the habit of pulling the shower curtain closed along the curtain rod, leaving it to dry after showers. Cleaning the shower curtain is a very simple task that doesn't take long to do and is part of keeping your bathroom clean. Establish a cleaning schedule and make cleaning the shower curtain a part of your overall home cleaning schedule. Bookmark this under "bathroom cleaning tips."
Shopping for a New Shower Curtain
If it's obvious that your shower curtain is too far gone and you have to buy a new one, there's a thing or two you should know before heading to the store. The Center for Health, Environment & Justice, a national environmental organization, conducted a study published in June 2008 that looked into that new shower curtain smell you might be familiar with. They found that vinyl shower curtains made with PVC (polyvinyl chloride) release harmful chemicals into the air. According to the report, these chemicals potentially pose serious health risks. However, there are vinyl substitutes for PVC. And apparently it's not "vinyl" so much as the chlorine molecule in PVC that causes the greater health risk.
If you're going to purchase a plastic shower curtain, you should probably buy one that's chlorine free. So, instead of PVC (polyvinyl chloride), which can show up on labels simply as vinyl, you want EVA (ethylene vinyl acetate) or PEVA (polyethylene vinyl acetate), both of which are chlorine-free vinyl. That's what I'm going with until the next study is completed because I'm a big fan of transparent or semitransparent vinyl curtains. I don't mind tight spaces or being wet or being naked, but I have a hard time with all three at once. I think it might also be that I like to see what's going on in the rest of the bathroom. Or maybe I shouldn't have been allowed to watch Psycho when I was kid.
An Alternative Method
If you're running low on elbow grease, you can also clean your shower curtain in the washing machine. This will cause wrinkles, so if that's a concern, you might prefer to clean the shower curtain by hand. For this method, place the shower curtain in the washer with a towel and wash it using equal parts detergent and baking soda. You can put a cup of vinegar in the rinse cycle and stop it before the spin to cut back on the amount of wrinkling that will occur. Or you can wait till after you've removed it from the washer and rehung it to spritz it with vinegar. However you do it, enjoy your clean shower curtain. You can always get Baking Soda from Amazon.