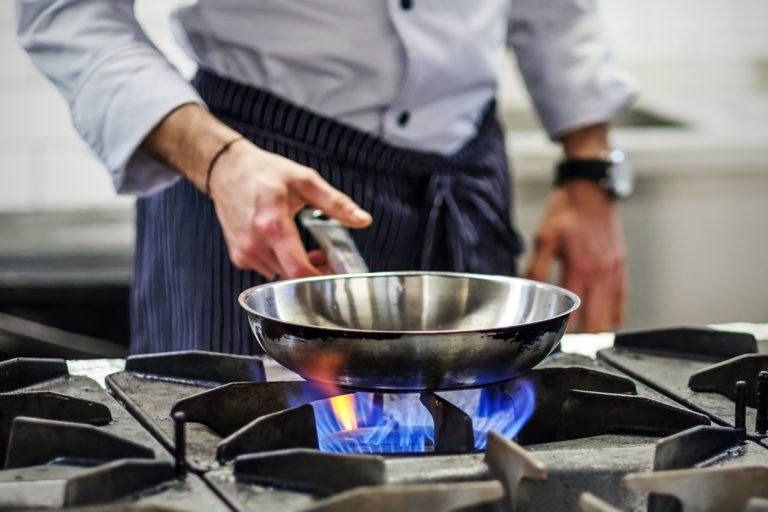 Quick Tips
General cleaning of a stainless steel pan.
Cleaning water spots from a stainless steel pan.
Cleaning a damaged stainless steel pan.
Stainless steel pans and inattentiveness don't mix.
Cooking away the bad burn on a stainless steel pan.
Nothing will make a dedicated cook fly off the pan handle faster than seeing a new set of stainless pans, or other fine cookware, ruined because the resident absentminded professor, video gamer, and all-around geek thought that heating hamburger to 1,000 degrees for an extended period would achieve meat-eating bliss. In the aftermath of this meat euphoria, the pan is now a piece of scrap. We're not talking about Teflon here, though Teflon can burn, too. Good cooks don't use it any more than they use aluminum pans. When not cooking with cast iron that's well-seasoned with salt and aged at least a decade, the only alternative is stainless steel.
Cleaning Stainless Steel Pans
General cleaning of a stainless steel pan. This normally requires little more than soap and water, and the occasional mild scrub with a scour pads. Those affixed to a 3M sponge are a good example. Copper bottom pans and older pans may require scrubbing with biodegradable, Japanese-made Sandclean Scrubbers. Try at all costs to avoid coarse steel wool and the copper-based scrubber called a Chore Boy. These will only ruin the finish of the copper and scratch the steel.
Cleaning water spots from a stainless steel pan. What most people call a water spot is actually the residue of chemicals in our water. Some are natural (calcium, iron, manganese and sometimes sulfates), and others are added on purpose (chlorine and fluoride) or unintentionally (trichloroethane, pharmaceuticals, dioxins, pesticides, herbicides, and fertilizers). Don't use normal, everyday dishwasher for pots and pans. If you must, then rinse them in club soda (reused from pan to pan) and dry with soft, cotton cloths. An interesting option is a dry powder cleaner from Church & Dwight called Cameo.
Cleaning a damaged stainless steel pan. If the pan has been badly used, just short of being destroyed, it might be able to be cleaned with a lot of elbow grease and some dry baking soda. You can improve the results by putting the baking soda on a Magic Eraser and scrubbing and scrubbing. It takes tremendous amount of time and strength to scrub through greasy, burnt layers. If you don't have the strength, or a strong man handy, you can buy a variable-speed drill and a lamb's wool pad to aid the effort.
Stainless steel pans and inattentiveness don't mix.Pans that live in the same house as adolescents, and men who rarely show up in the kitchen except to eat, can receive some very careless care. Short of the pan actually being melted or warped from intense, prolonged heat, you can save the day. It's not quite as green as other methods, but it works and it's cheap. The oxalic acid in Barkeeper's Friend is a chemical derived from a flowering plant (wood sorrel). It is used in food, so it's less than toxic, though you might want to wear gloves anyway. Try using it with a scrubber or the drill and lamb's wool pad, but never heat it up. The chemical reaction during heating will leave a black ring where the liquid was applied.
Cooking away the bad burn on a stainless steel pan. As strange as it sounds, put the damaged pan on the stove. Add just enough water to cover the damage, and turn on the heat. Once the water is boiling, add 2–4 tablespoons of salt. You should never dump salt into cold water as it will pit the metal. Remove the pan from the heat, and let it set for 4 hours. Try scrubbing away the residue. If that doesn't work, repeat the boiling and let the pan set overnight. White vinegar or lemon juice can be used in place of salt. Some people swear that using 100 percent tomato juice instead of the water and salt method works better because of the tomato's natural acidity.
More Stainless Steel Pan Cleaning Tips
When all else fails, you can try an unorthodox method recommended by a friend's husband. Heat up a propane torch, and proceed, from a distance, to burn the residue off at the very highest heat setting. Rule number one is knowing how to use a torch. If you don't know how to use one, don't try this at home.
Do not ever use chlorine or ammonia on a stainless steel or copper clad pan. The chlorine interacts negatively with the stainless steel at the molecular level to aid in corrosion. Ammonia just interacts badly with people's lungs.
If you're going to buy stainless, spend a little extra and buy pots and pans with copper cores or copper bottoms. Stainless steel does not conduct heat well, and adding copper to the bottom makes food cook evenly.
Make sure you choose pans that are 18/10 stainless steel. These numbers indicate the amount of chromium and nickel in the steel, which make it stainless and durable. While you're at it, make sure the handles are welded and riveted, as well as clad for cool handling, preferably with a phenolic compound.
Stainless Steel Cleaners
Sandclean Scrubbers. Made in Japan, these are safer and less likely to scratch your stainless steel pots and pans than steel wool and copper fiber scrubbers. They are remarkably effective in removing burn marks and residue than any other scrubber on the market. They don't rust, or shred, break or tear, which means you won't be eating steel with your breakfast eggs. It is also effective on sinks and kitchen appliances. You can find these Sandclean Scrubbers on Amazon.
Cameo Aluminum and Stainless Steel Cleaner. Made by Church & Dwight Co., Inc., who make Arm & Hammer brand products, Cameo is a relatively green cleaning agent. Its major ingredient, nepheline syenite, is a pumice-type rock that safely polishes away stains. The grit is so fine that it doesn't mar the stainless steel surface.