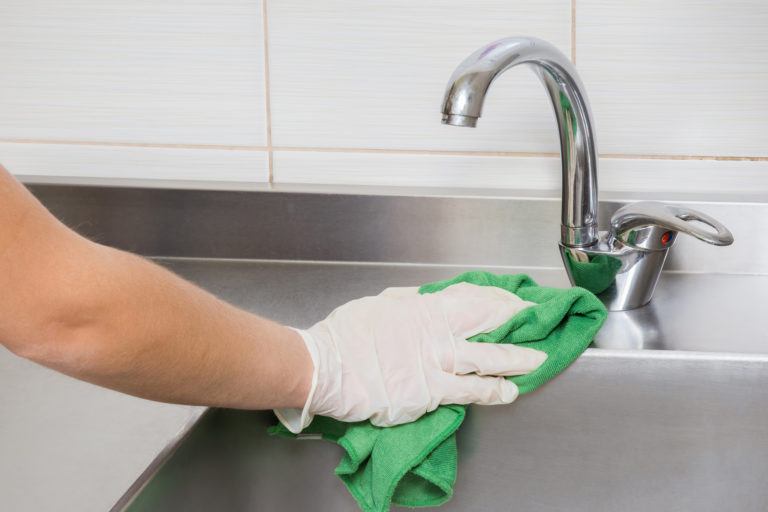 Quick Tips
How to Clean Aluminum.
How to Clean Cast Iron.
How to Clean Copper.
How to Clean Gold.
How to Clean Chrome.
How to Clean Stainless Steel.
So you want to learn how to clean metal. Well, there are many types of metal and each has unique uses, properties, and behaviors. Cast iron is porous and hates soap and water. Copper develops protective tarnish that may make it more valuable. Stainless steel can get stained. Chrome is usually electroplated over other metals. Gold will get you mugged. All these metals have their quirks, but they also have something in common. Each of these metals can be cleaned at home. Each metal can be cleaned cheaply. Each metal can be cleaned using methods that are safe for you and the environment. Follow any of the links starting the paragraphs below to get started. We will continue to learn how to clean metals and grow this page.
Cleaning Metal
How to Clean Metal Safely
There are scads of metal polishes and metal cleaners on the market. Go to the chemical aisle of any grocery store and you'll find a handful of brands. They work well. In almost every case they will do their job as advertised. But I won't use most of them. Neither would any of the other writers for How to Clean Things, and not just because we are frugal and handy. Many of the companies will not disclose their ingredients – it's proprietary and all that. A company's rights will trump an individual's "right to know" in our profit-driven society. That is why do-it-yourself cleaning is the right approach for cleaning metal. That way, at least you know what you're working with. If you'd rather buy than make your metal cleaner, well, we've researched a few products for each metal. These commercial metal cleaning products can be found in the right sidebar of each page. Enjoy.
Green Products for Cleaning Metal
Homewood Metal Polish.Wow, a company that respects your right to know what chemicals you're working with. This natural, plant-based product will clean metal of almost any variety, including any of the metals found on this page. You can order bottles of Metal Polish from Amazon.
Hope's Premium Homecare Products. This line of products is recommended by many green-minded product critics. Their line includes individual products for cleaning metal of different kinds, including brass, copper, silver, and stainless steel. The slogan is quite cheesy, however: "When it comes to surface cleaning, never give up Hope." Sigh.
Twinkle metal cleaning products. There are separate Twinkle cleaning products for stainless steel, copper and brass, and silver. Twinkle, as far as I can tell, does not even have a website. Even so, their products are much coveted. They contain no phosphorous or petroleum distillates – even the product boxes are made from recycled cardboard. You may not find this at the local grocer, so expect to order this stuff online.