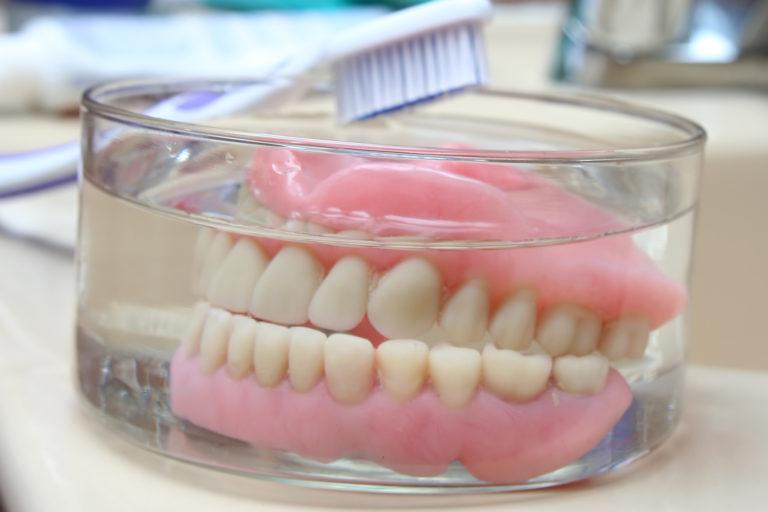 Quick Tips
Identify your denture type.
Rinse your dentures after eating.
Use a soft-bristled brush to clean dentures.
Brush all surfaces of your dentures.
Soak the dentures overnight.
Brush your tongue, gums, and palate.
You've reached the final frontier for your mouth's beloved food mashers. This time care will be taken to make sure this new apparatus stays in its best condition, right? Whether your dentures fit around existing teeth or are complete molds, daily cleaning is a must to keep from needing another batch. Although cleaning dentures isn't complicated, it's good to get information to avoid haphazard care as dentures don't come cheap. Listed below are the do's and don'ts associated with keeping your dentures clean. The following process will teach you how to clean dentures.
Steps to Cleaning Dentures
Identify your denture type. If yours have a temporary lining, they must not be allowed to dry out while they are not in your mouth. Too much heat can warp your dentures, so avoid using boiling water or any machine to soak or rinse them. Whether your removable dentures are partial or complete, rinsing, brushing, and soaking are necessary to properly clean dentures.
Rinse your dentures after eating. All dentures are somewhat fragile. Fill the sink with a few inches of water or place a towel on the bottom to protect them if they're dropped. Use cool or warm water to thoroughly rinse away loose food particles. This helps remove accumulated debris before the brushing process.
Use a soft-bristled brush to clean dentures. Ideally you will have a brush specifically designed for denture cleaning, but a soft-bristled toothbrush will work as well. A mild dishwashing liquid, hand soap, or a specific denture cleanser may be applied to the brush to assist in the cleaning. Toothpaste and powdered cleaners are generally too abrasive for this endeavor. Some other substances to avoid are alcohol, household cleaners, and whiteners.
Brush all surfaces of your dentures. The insides and outsides are of equal importance when brushing. Even with the options listed above for cleaning, the most important part is the actual friction of the brush on the dentures. After covering all surfaces, remove residue by thoroughly rinsing with water.
Soak the dentures overnight. Your dentist-recommended soaking solution is preferred but any one that has the American Dental Association (ADA) Seal of Acceptance on the label is a safe bet. Warm water is acceptable as well for overnight soaking. If you have partial dentures, you may want to only use the recommended cleanser to avoid compromising the metal wiring. For dentures with a temporary lining, soak in cool or lukewarm water or your dentist's recommended soaking solution for no more than 30 minutes a day.
Brush your tongue, gums, and palate. Gently brushing or massaging can help stimulate circulation, remove plaque, and keep your gums firm. Your saliva and tongue will naturally clean your gums overnight while your dentures are soaking.
Denture Cleaning Safety
It is important to read any denture cleaning labels prior to use. In 2008, the FDA asked manufacturers to add to the labeling on denture cleansers. The directions weren't clear enough in stating that the dentures are cleaned in a container—to soak. Also, those who are allergic to persulfate were at risk if they did not rinse the dentures prior to re-inserting them. These particular allergic reaction symptoms did not appear right away. To practice safety, aside from reading the label carefully, do not put denture cleanser in your mouth at all. Make sure you rinse the dentures thoroughly prior to putting them back in. Aggravating the gums with the harsh chemicals is definitely not a good idea.
Denture Cleaning Aids
Natural solutions. Vinegar can be used in a 50/50 mixture with water to clean dentures. Soak for 20 minutes and scrub with an approved brush. Aloe vera gel can be applied once or twice a day as well to prevent fungal growth.
Denture brush. Denture brushes seem like the way to go for cleaning dentures. The double- sided brush design ensures that every nook and cranny can be cleaned. These are also cheap and can be found easily enough.
Ultrasonic denture cleaner. Although these are a little pricier ($50-$150), ultrasonic denture cleaners do a very good job in combination with brushing. These devices use energy waves to clean dentures with even the finest, hard-to-see debris. Things have become a bit cheaper, though, and you can find the iSonic Ultrasonic Cleaner for $40 from Amazon.