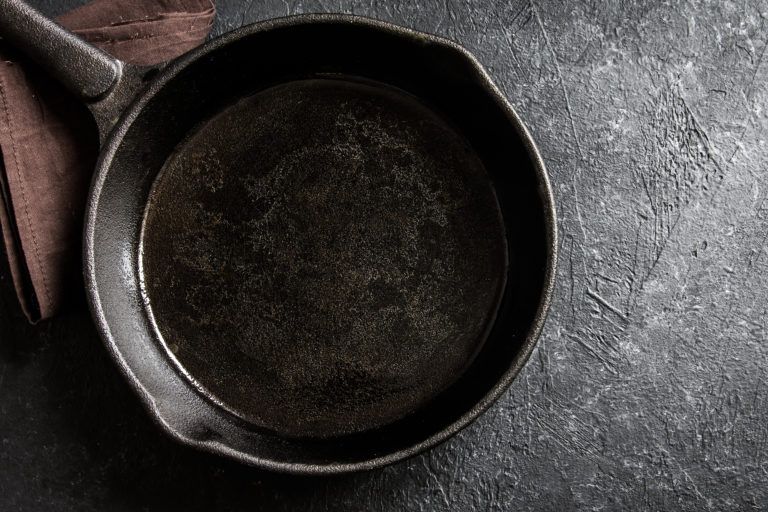 Quick Tips
Never use a dishwasher to clean cast iron.
To clean cast iron, you'll need salt, cooking oil, and your stove.
Another method used to clean cast iron requires warm water and a plastic scrubber.
Clean rust from cast iron with a fine-grade steel wool or wet/dry sandpaper.
To season cast iron, you'll need a block of lard, tin foil, and your oven.
Store cast iron cookware in a cool, dry place.
No kitchen instrument or style of cookware has quite the same vocal, enthusiastic community as cast iron. They write books about cast iron. They write love letters to cast iron. They sing the praises of the metal with a religious fervor, and they want to convert you. Since you've come here to learn how to clean cast iron, you're probably, like me, already a disciple. After a week of talking to cast iron users and visiting their online communities, I'm convinced there must be some positive correlation between cooking with cast iron and becoming wholesome and kind. Is it in the food? Perhaps.
"No matter what you're cooking, the food just tastes better with cast iron," one fanatic told me. Indeed, cast iron does have some unique properties. It can withstand extreme heat, making it ideal for frying and sautéing. It also distributes heat with perfect uniformity, preventing hotspots and burns. This also helps for making crusts and baking in the oven. Because of its seasoning, cast iron is also non-stick. What is seasoning, you ask? Cast iron is porous, and these pores are sealed with cooking oils. Not only does this create the non-stick surface and prevent rust, it adds flavor and verve to your food. So, each time you cook you're adding character to that skillet. Ok, so how do you clean this wondrous metal? Well, cleaning cast iron is different. The dishwasher is out of the question. Soap is frowned upon. Don't be alarmed: the heat of cast iron cookware will kill any germs. Read below to learn how to clean cast iron – a versatile metal, well-suited for both professional kitchens and campfires.
How to Care for and Clean Cast Iron
Never use a dishwasher to clean cast iron. One drawback (a minor one) of cast iron is that it rusts easily. Once your cast iron skillet, Dutch oven, kettle, griddle, or other cookware develops rust, you'll have to strip the cast iron's cherished seasoning to get rid of it.
To clean cast iron, you'll need salt, cooking oil, and your stove. Many cast iron enthusiasts will insist that water and soap are never needed for regular cleaning. Instead, they rub their cookware with salt and then put it over a low flame to evaporate any moisture from cooking. Lastly, apply a very thin layer of cooking oil all over the cast iron with a paper towel. This will prevent rust and protect the seasoning. It is best to clean cast iron when it's warm; just like our skin, heat opens the pores in cast iron and helps it to release food and built up fat.
Another method used to clean cast iron requires warm water and a plastic scrubber. Run the cast iron under warm water and scrub with a plastic brush or scrubber. Put it over a burner or use paper towels to get rid of moisture. Lastly, using a paper towel, lightly coat the cast iron with cooking oil before storing. With either of these methods, cleaning the cast iron while it is still warm will make things easier. If lots of food is sticking to your cast iron cookware, it isn't properly seasoned (see below for directions).
Clean rust from cast iron with a fine-grade steel wool or wet/dry sandpaper. Your cast iron skillet isn't ruined – the rust isn't a big deal. Wet the cast iron and get after the rust with a fine-grade steel wool or some wet/dry sand paper. Scour your cast iron until it comes out, rinsing now and then to see your work. The rust will eventually disappear, but now you've ruined the seasoning, which adds flavor and prevents sticking. Next, I'll show you how to season cast iron cookware, which is easy, and I had fun doing it.
To season cast iron, you'll need a block of lard, tin foil, and your oven. First, cover the bottom rack of your oven with tinfoil to collect spillage. Next, preheat your oven at 350 – 400 degrees. Cover your cast iron with a thin layer of lard and set it face down on the upper rack. Be sure to open a window and keep your oven fan on. It will smoke some (I turn off my smoke alarm, but that's not "safe" I guess). Let the cast iron bake for an hour and take it out with an oven mitt. Your pan should be dark brown and ready for action, but to get a truly righteous seasoning, cast iron pros recommend repeating this process up to three times.
Store cast iron cookware in a cool, dry place. You don't want to remove rust and re-season often – the seasoning grows more precious and flavorful with age. Keeping your cast iron cookware in a cool dry place, and using it often, will prevent rusting. If your cast iron piece has a lid, place a paper towel inside to absorb any moisture that may accumulate. If you don't have much room, the oven is a great place to store your cast iron.
More Ways to Care for and Clean Cast Iron
Seasoning
Do I have to use lard? No. People use Crisco, olive oil, canola oil, vegetable oil – any cooking oil to season their cast iron. As long the pores are made smooth and you have a non-stick surface, it doesn't matter. Of course, different oils create different flavors – but that's a matter of taste.
Seasoning cast iron on the grill. Seasoning can be stinky and smoky. Avoid getting yelled at by your significant other by working your alchemy outside on the grill.
Seasoning your cast iron skillet or griddle with bacon. I like this method because I'm a pig (cannibal too?). It gives me an excuse to eat bacon. Simply frying four to five rounds of bacon will work oils and fat into your cast iron.
Cleaning
Why can't I use soap to clean cast iron? Sigh…Ok, some people do use soap, but this is a sin against The Church of Cast Iron. How about this: grab some canola oil and pretend it's soap (soap is made from fats and oils, after all) and scrub away. This will get your cast iron clean – BUT IT WILL NEVER SPARKLE . . . for Christ's sake.
Wire brush. My neighbors are smart when it comes to the culinary arts. They clean cast iron with a wire brush, but then again, their seasoning is old and well-bonded to the cast iron.
Clean rust and built-up fat from cast iron with Coca-Cola. Here is yet another reason never to drink but, alas, to buy Coca-Cola. Leave your cast iron in this vile soda overnight and scrub away with a plastic brush in the morning. It works.
To clean lots of rust or built-up gunk, use a rotary wire brush. This is great for those ancient, neglected cast iron pieces discovered at garage sales. Buy a mean wire brush that can attach to a power drill. Go to town. Your cast iron will soon be ready for re-seasoning.
Cast Iron Literature
Cast Iron Cooking For Dummies. Even if you don't consider yourself a dummy (most dummies don't) this is a must for the novice cast iron cook. It will show you how to clean cast iron and care for it (like you need that now), as well as what to look for before purchasing cast iron cookware. The recipes cover a wide range of foods for both indoor and outdoor cooking. It's also a very inexpensive book. You can buy this book from Amazon.
The Cast Iron Skillet Cookbook: Recipes for the Best Pan in Your Kitchen. This cookbook doesn't actually focus entirely on that cast iron icon – the skillet. It boats over 90 recipes for your stove, oven, and outdoor Dutch oven cooking. It has gotten good reviews from several culinary websites. One complaint (not mine) is that it favors comfort food over gourmet cooking.
Cast Iron Cooking: 50 Gourmet-Quality Dishes from Entrees to Desserts. Cast iron isn't just for campfires and bulking up for no reason. This book demonstrates just how versatile cast iron is, as you'll learn how to cook healthy gourmet entrees, desserts, and side dishes. For beginners, there is a chapter on different styles of cast iron cookware and what they are used for. There is also a chapter on live-fire and charcoal cooking for those classic recipes.