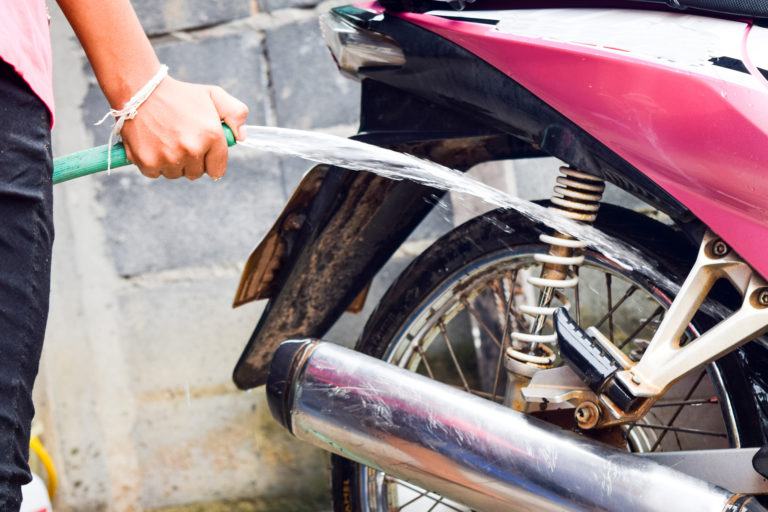 Quick Tips
Gather your motorcycle cleaning supplies.
Wash with water and a motorcycle cleaner.
Removing stubborn bug splatter from your motorcycle.
Washing the motorcycle with a wash mitt.
Washing the motorcycle windshield.
Cleaning the motorcycle tires and wheels.
Drying your clean motorcycle.
We may not all be fortunate enough to drive the bike of our dreams, but whatever you're driving, I'm sure it's your baby. Road dirt, bug splatter, and more can accumulate on a motorcycle and cause damage to the finish if left there. How often you need to clean your cycle will depend on how often you take it on the road. In general, regular care and cleaning can go a long way toward keeping your bike in showroom condition.
Pay close attention when washing a motorcycle as its exposed parts and sensitive areas make cleaning it more challenging than a car. If your bike is hidden under layer after layer of caked on dirt, these tips may help, but you'll probably need to employ a toothbrush and some WD-40. Much of the advice I received was from a Harley guy, so do not be shocked if I mention Harley products. Imagine that . . . a Harley guy who favors Harley products. Let's roll.
Steps for Cleaning a Motorcycle
Gather your motorcycle cleaning supplies. To save time, you may want to purchase a cleaning kit at your local motorcycle or automotive store. Harley has a small kit called the Harley Care Starter Kit, or the more comprehensive kits called the Detailing Kit or the Bike Wash Kit. Happily, many of their products are biodegradable. S100 has a Care Kit which also contains eco-friendly products. Otherwise, you need a bucket, a hose, dish soap or automotive cleaner, bug remover, degreaser, wheel cleaner or white vinegar, a few microfiber cloths or a sponge, and a chamois for drying.
Wash with water and a motorcycle cleaner. Wiping down a bike with grit and debris on it can scratch the finish, so you'll want to gently rinse the bike down first. Do not use a pressure washer as some areas are sensitive and should not have water forced into them. Wet it down with a regular hose and out of direct sunlight. Then, spray the entire bike down with something like S100's Total Cycle Cleaner, an eco-friendly formula that removes dirt, grease, and insects with little or no scrubbing. Always follow the directions on the package. Thoroughly rinse with the hose.
Removing stubborn bug splatter from your motorcycle. Leaving bug splatter on your motorcycle can damage the finish. Try to remove these materials routinely, preferably as soon as possible after contact. For those stubborn, dried on bugs, use a special product like Harley Davidson Bug Remover. Dried on splatter may take a little elbow grease, but be careful not to be too rough or you may end up having to fix scratches. Always test your method out on a part of the bike that can't be seen.
Washing the motorcycle with a wash mitt. If you are still left with grunge on the bike, you will need to put a little more time into the cleaning. Fill your bucket with water and some soap. While dish soap can be used, my Harley guy recommended a motorcycle specific soap. Invest in a quality wash mitt that has the ability to grip the curves of the bike, but you can use a microfiber cloth. Dip the mitt or cloth in your soapy solution, and gently scrub the bike. Make sure to rinse thoroughly, and do not allow the soap to dry on the bike.
Washing the motorcycle windshield. Many motorcycles have windshields made of a plastic like Lexan, which really needs to be cleaned with a product that is safe for the material. You can wash the windshield with water and a soft cloth by gently wiping off the surface. Be sure to dry immediately and shine with a soft cloth to avoid water spots. For dirtier jobs, you may need a windshield cleaner like Plexus. Never use Windex or other glass cleaners because there is a possibility of damaging the surface.
Cleaning the motorcycle tires and wheels. This can be the hardest and dirtiest part. Wheels usually have lots of sides and crevasses that need to be cleaned. For the tires and wheels, take your soap and water mixture and scrub with a soft cloth. When cleaning chrome, you want it to shine and be the focal point of the bike. Put some white vinegar on a soft cloth, and wipe down the chrome, following the direction of the metal's grain. Use a second soft cloth to buff to a shine. For more on the subject, see How to Clean Chrome.
Drying your clean motorcycle. It is important that you dry your motorcycle and remove as much moisture as you can. Not only does it help you to avoid water spots and swirls, but leaving water to sit in certain areas is not good for the bike. Many people use a chamois to dry their bikes, which is a perfectly fine option. Other motorcycle owners use motorcycle dryers that blow as much water as they can from the nooks and crannies. Of course, you could also take the bike for a ride after wiping it down with cloths to blow out any hidden water.
Quick Alternative: Waterless Motorcycle Cleaning
You say you don't have time to haul out the hose and get all wet? There are non-toxic, biodegradable, no-rinse cleaners on the market that are great for routine cleaning. Since they are no-rinse cleaners, they also reduce water consumption. Do not use one of these cleaners if your motorcycle is really dirty and coated in grunge as this could disturb the finish. However, if you believe in routine cleaning and maintenance, these all-in-one cleaners are perfect for you. The cleaner will float dirt off of the surface for a quick and easy touch up of your baby without the need for rinsing. Harley Davidson and Motorex offer waterless products that are quick and specifically designed for routine cleaning. As always, properly follow the directions on the packaging. By performing quick maintenance cleaning, you will avoid the need for a heavy duty cleaning down the road, which means you can spend more time out on the road.
Green Products for Cleaning a Motorcycle
Mary Moppins Ultimate Car Care Kit. This kit includes a soft mitt, scrub pad, washing solution, and a leather/vinyl conditioner and protectant. These products are specifically designed for cars and motorcycles, and are biodegradable, eco-friendly options.
Simple Green All-Purpose Cleaner. This versatile cleaner was designed to be non-toxic and biodegradable. The spray version is great for spraying down the bike after your initial wetting stage. The cleaner is safe for most surfaces, and will effectively remove road grunge with ease. Simple Green is also great as a degreaser and should be able to cut through grime built up in crevasses.
S100 Care Set.This set contains a bottle of Total Cycle Cleaner, a detail & wax product, sponge, drying towel, corrosion protectant, and some Total Cycle Finish Restorer. The cycle cleaner is water-based and environmentally friendly. Proper applied, this kit can reduce the amount of time you spend cleaning your motorcycle. Amazon sells the full S100 Motorcycle Detailing Kit.